NEW PATIENT SPECIAL
Choosing a new dentist is always a personal decision. To help you in making that decision I invite you to come in for a get acquainted visit.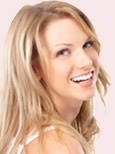 As a new patient you will receive a free exam and necessary x-rays while getting to know us. Give us a call:
(503) 665-9737.
Offer expires Oct. 31st, 2018
CEREC Dental Crowns in Gresham
How many times have you wished that you could get a crown in one day? Who wants to wear a temporary for a week or more and then have to return to have your crown cemented? Think of the time wasted coming and going from the dentist's office for that second appointment?
Now in many cases at my office you won't have to with the Cerec System. After evaluating your tooth I will shape it like I always have. Then instead of taking a traditional impression where you have to sit with a paste/putty like material, that some patients refer to as "goop", in your mouth for several minutes while it sets up, your tooth will be coated with a non-toxic, tasteless powder. A camera is then used to take a digital impression of your tooth.
Next using Cerec's software your crown is designed by converting the pictures taken earlier into a 3-dimensional model on the computer screen. After finishing the designing of your crown an in office milling machine is used to fabricate your new crown. While the crown is being milled and polished and you can relax, or read a book or magazine or have other dental work done that you need.
Your new crown is then bonded into place. No temporary or return visit needed.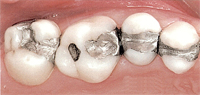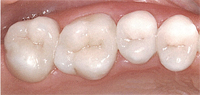 Before
After
Additionally the "porcelains" being used by the Cerec milling machine makes a fantastic way to restore teeth with large fillings. When a traditional filling of amalgam or resin are placed, dentists have found that they will fail. Dentist's know that amalgam fillings can chip over time needing replacement and sometimes are responsible for causing teeth to fracture. Studies have also shown that resin fillings are quite prone to decay by the gingival. Every time you have to replace a filling a little more tooth is removed.
Since 1987 dentists have been using the Cerec method to replace fillings and restore the tooth to it's natural strength.
---
Read Our Blog